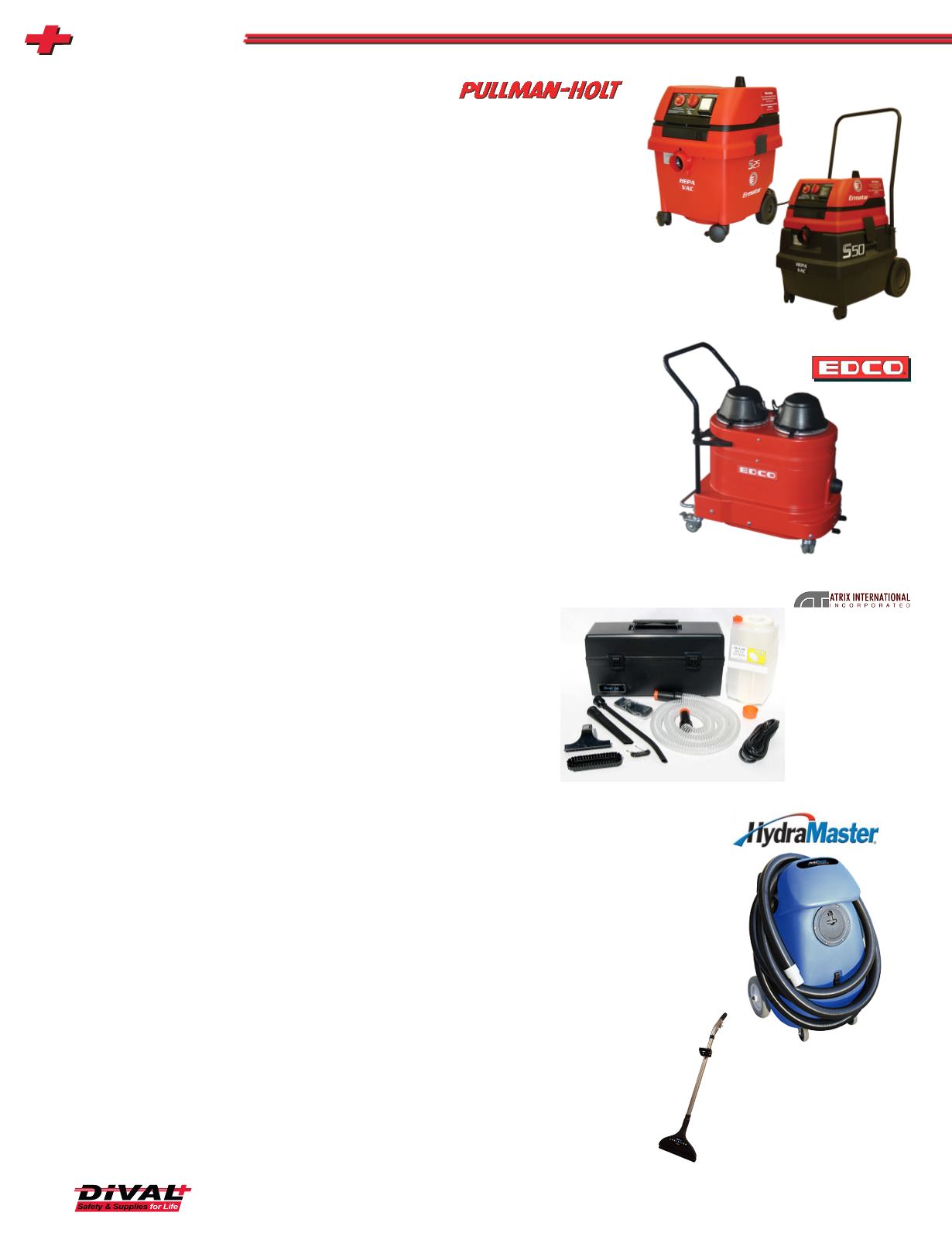 Vacuums
Omega HEPA Abatement Vacuum
Item #VACOMH
$329.00
/EA
• Works great for cleaning pipe
dust, content work (fire), mold
remediation, vacuuming off suites
after decon job, removing silicone
dust from cement jobs after
drilling, environmental testing,
forensic work and core sampling
• Filter changes easy, clean and safe
• Complete with all accessories shown
• Features a self-contained HEPA filter
system that captures hazardous
particles as small as 0.3 microns at
99.97% efficiency
• Hose and filter plugs for safety
• Powerful, portable and quiet
1,000 hour motor
• Features over-heat protection
Pullman-Holt Wet/Dry HEPA Vacuum
with Power Tool Outlet, 120V
• Single motor HEPA vacuum with plug
for power tool
• Includes electric auto filter shaking sys-
tem, and suction power is adjustable
• Wet and dry HEPA vacuum with dual,
individually tested and certified HEPA
filters, 99.99% at 0.3 microns
• Outlet for power tools
• Vacuum will start and stop on demand
from the power tool
Item #200800018A
S25 7 Gallon Tank
Item #200800094A
S50 14 Gallon Tank
$631.40
/EA
$726.95
/EA
EDCO® 200 CFM Dust Control
Vacuum System w/ Connector
Item #ED333125K
9 Gallon Tank
$3,125.00
/EA
• Electric 110 volt 16 amp dual motor with 3.2 HP
• 13 sq. ft. of micro clean filter area
• 3 year filter guarantee
• Cast-composite material guaranteed for life
• 2" x 25' hose
• Comes standard with wand kit for floor cleaning
• For use indoor and outdoor working environments
• Collects dust and debris from
construction equipment
• Dust control in wood, welding shops, drywall
contractors, powder paint booth systems, etc.
• Lead paint removal
• 35" H x 20" W x 32" L
• Meets and exceeds OSHA respiratory standards
• 7-second delay on the vacuum shut-off ensures
that all dust is emptied from the hose
• Variable speed on the vacuum motor allows the
operator to adjust the amperage and suction
power according to circuit breaker capacity
• Automatic filter shaking system. A sensor indi-
cates if a filter is clogged and starts shaking the
filter immediately after the vacuum shuts off
• Compact design makes it easy to transport,
carry and to store in vans and trucks
HydraMaster Portable Water Extractor
Item #FLOODKING(color)
• Power Cord: 25 ft., 12 gauge, 3-wire
hospital grad plug
• Power Consumption: 13 Amps
• Recovery Capacity: 9 gallon
• Vacuum Intake Hose: 2" x 25'
• Vacuum Motors: Two 3-stage vacuums
• Waterlift/CFM: 100"/170 CFM
• Air Watts: 520 AW (in operational range)
HydraMaster 2" Flood Extractor Evolution Wand
Item #FEW16
$1,710.00
/EA
• Lightweight design with a built-in
glide holder and Delrin™ acetal glide,
reducing fatigue on the operator
$775.00
/EA
• Overflow Protection: Electronic float I Auto ON/OFF
• Discharge Pumps: Two diaphragm bilge pumps
• Discharge Hose: One 3/4" x 50'
• Discharge Rate: 10.5 GPM
• Filter System: One 80 micron polyester mesh
strainer at the water inlet to the recovery tank
• Two 50 mesh S/S filters in recovery tank
• Two 50 mesh S/S screens in-line
• 2" diameter, light weight vacuum is
designed to fit the 2" vacuum hose
• Durable, yet lightweight
#FLOODKING
#FEW16
YOUR DEPENDABLE SUPPLIER
of Safety Products and Much, Much More!
24
Available
Colors:
• Blue
• Red
• Black
• Green