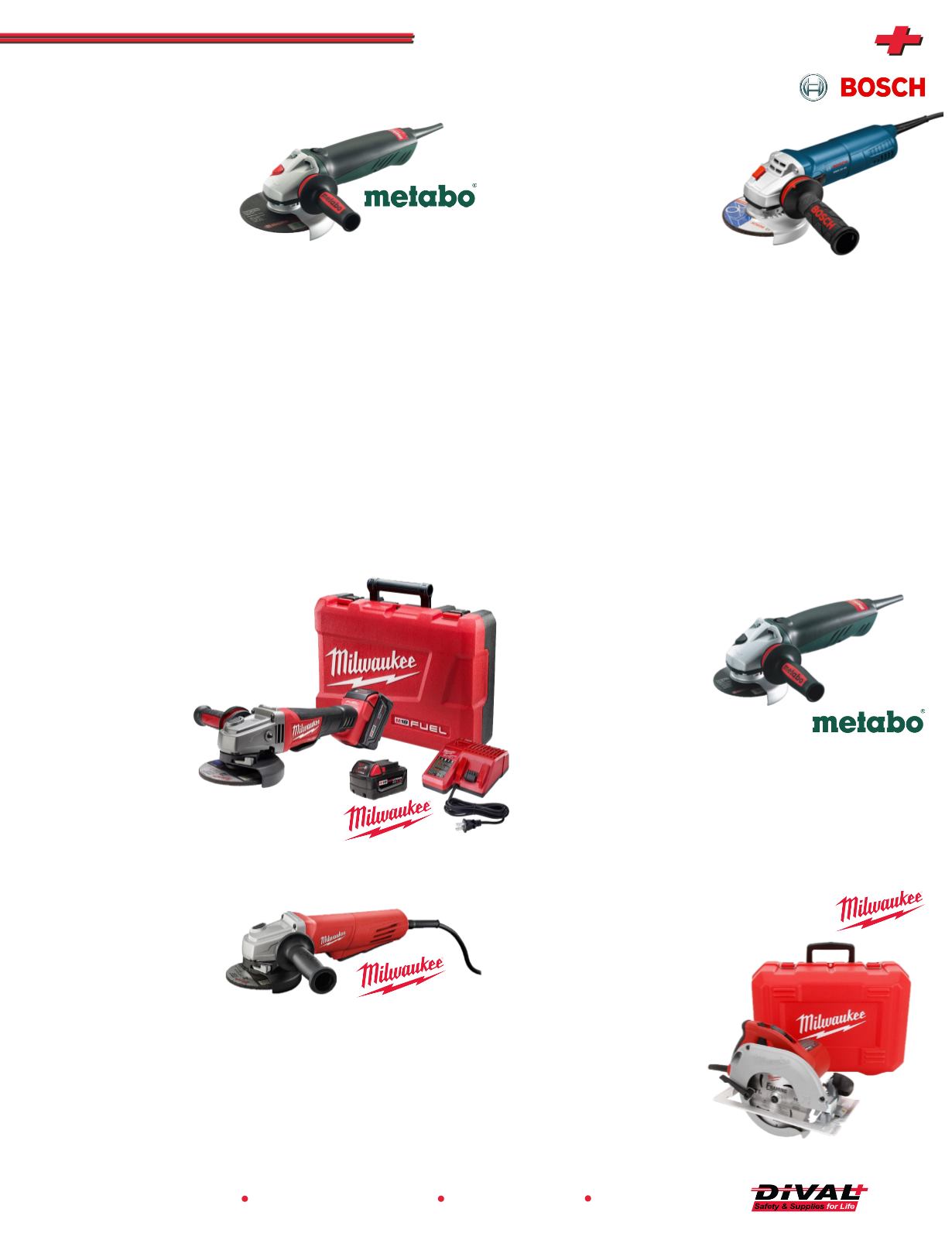 Metabo® Corded 800 Watt Angle
Grinder with Wheel Guard, 4½"
• 8 amps, 10,000 RPM
• Die-cast aluminum gear housing
• Metabo S-automatic torque
limiting clutch for protection
against kick-backs which
can occur if the bit jams
• Spindle lock
• Additional Metabo VibraTech
(MVT) handle for vibration damping
• Adjustment of protective
cover without tools
• Ergonomic shape for
fatigue-proof rough grinding
• Versatile applications through the
extensive range of accessories
Item #W8115
$126.25
/EA
Metabo® Corded 1400 Watt Angle
Grinder with Quick Change System, 6"
Item #WE14150QUICK
$249.00
/EA
• Highest service life for extreme
applications: robust, powerful angle
grinder with greatest power density
in its class for quick work progress
• New, patent-pending Metabo
Long-life motor with up to 50%
more torque and up to 20% higher
overload capacity for quicker mate-
rial removal and longer service life
• Tacho-Constamatic (TC)-Full Wave
Electronics: fast work progress by
means of constant speed under load
• Now even faster: M-Quick System
for tool-free disc change at the
touch of a button by means of
M-Quick flange nut
Grinding Disc Ø: 150 mm / 6 "
No-Load Speed: 9600 RPM /min
Torque: 3.9 Nm / 35 in-lbs
110-120 V / 60 Hz
11 Amp 4½" Small Angle
Grinder Paddle
• Powerful 11 Amp, 11,000
RPM Motor: Provides
maximum performance
and durability
• Tool-Free Accessory
Change: Easily change
"All Accessories" without
a wrench
• Tool-Free Adjustable Guard:
Provides quick guard
installations and adjustments
• 2-wire, 8' cord
• 18V, 8,500 RPM, 5.8 lbs
• POWERSTATE™ Brushless Motor:
for maximum power
• REDLINK PLUS™ Intelligence provides
optimized performance, electronic clutch,
and overload protection
• REDLITHIUM™ XC 4.0 Battery
Pack provides 2X
more run-time
• Cordless grinder with
corded performance
• 100% tool free: Make
changing accessory
and guard adjustments quick and easy
• Paddle-switch design: increases comfort and
ease-of-use when operating in various positions
M18 FUEL™ 4-1/2" / 5" Grinder,
Paddle Switch No-Lock Kit
Item #614730
Lock on
Item #614731
No lock
$90.40
/EA
$90.40
/EA
Item #278022
$458.10
/EA
• Tool-free adjustable guard; twist-proof
• Side handle Metabo VibraTech
(MVT) handle vibration damping for
convenient continuous operation
• Metabo S-automatic Torque Lim-
iting Clutch: minimizes kick-back
when the disc jams to the lowest
level on the market - for maximum
user protection and swift progress
• Electronic overload protection, soft
start and restart protection
• Gear housing can be mounted
turned in 90° steps for left-handed
operation or cutting
• Auto-stop carbon brushes to pro-
tect the motor
• Metabo winding protection grid
deflects harmful airborne debris
away from armature windings
• Auto-stop carbon brushes
• Advanced Airflow System:
Maximizes airflow and reduces
debris ingress, improving motor
life and performance
• Debris Baffles – protect internal
components by deflecting dam-
aging debris out of the airflow at
the intake vents
Item #GWS1045
$99.00
/EA
Bosch 4-1/2" Angle
Grinder, 10 amp, 120V
The Bosch GWS10-45 4½" Angle Grinder delivers
more power than previous-generation models
with the same size tool - 10 amps and
11,500 RPM. It has directed air
flow that diverts dust away
from vital components, and it
has direct-motor cooling, giving
it higher overload capabilities.
For operator comfort and control,
it sports a two-position Vibration
Control™ side handle, making it less shuddering to run. It has a
burst-protection quick toolless adjustable guard and a large spindle
lock for a convenient disc change. The Service Minder™ brushes
stop the grinder when preventative maintenance is required.
• Powerful motor – 10 A and 11,500 RPM
• Carbon brushes – more durable than previous generation brushes
• Direct-motor cooling for higher overload capabilities
• Two-position Vibration Control™ side handle for more user comfort
• Directed air flow diverts dust from vital components
• Toolless, burst-protection adjustable guard for user protection
• Service Minder™ brushes – ensure preventative maintenance
• Includes: backing flange, lock nut, spanner wrench, grinding guard,
vibration control side handle
Tilt-Lok™ Circular Saw
with Case, 7¼" Blade
Item #639021
$159.15
/EA
• TILT-LOK™ soft grip main
handle, adjusts to the work or
most comfortable work position
• 10.4 lbs net weight
• 15 amp, 3.25 HP motor
• Wide, clear sight line
• 9' cord
• Spindle lock
• 7¼" blade
• Tool free bevel
• Blade can bevel to a max 50°
Angle Grinders & Attachments
27
Phone
716.874.9060
Toll Free
800.343.1354
Fax
716.874.4686
DiValSafety.com