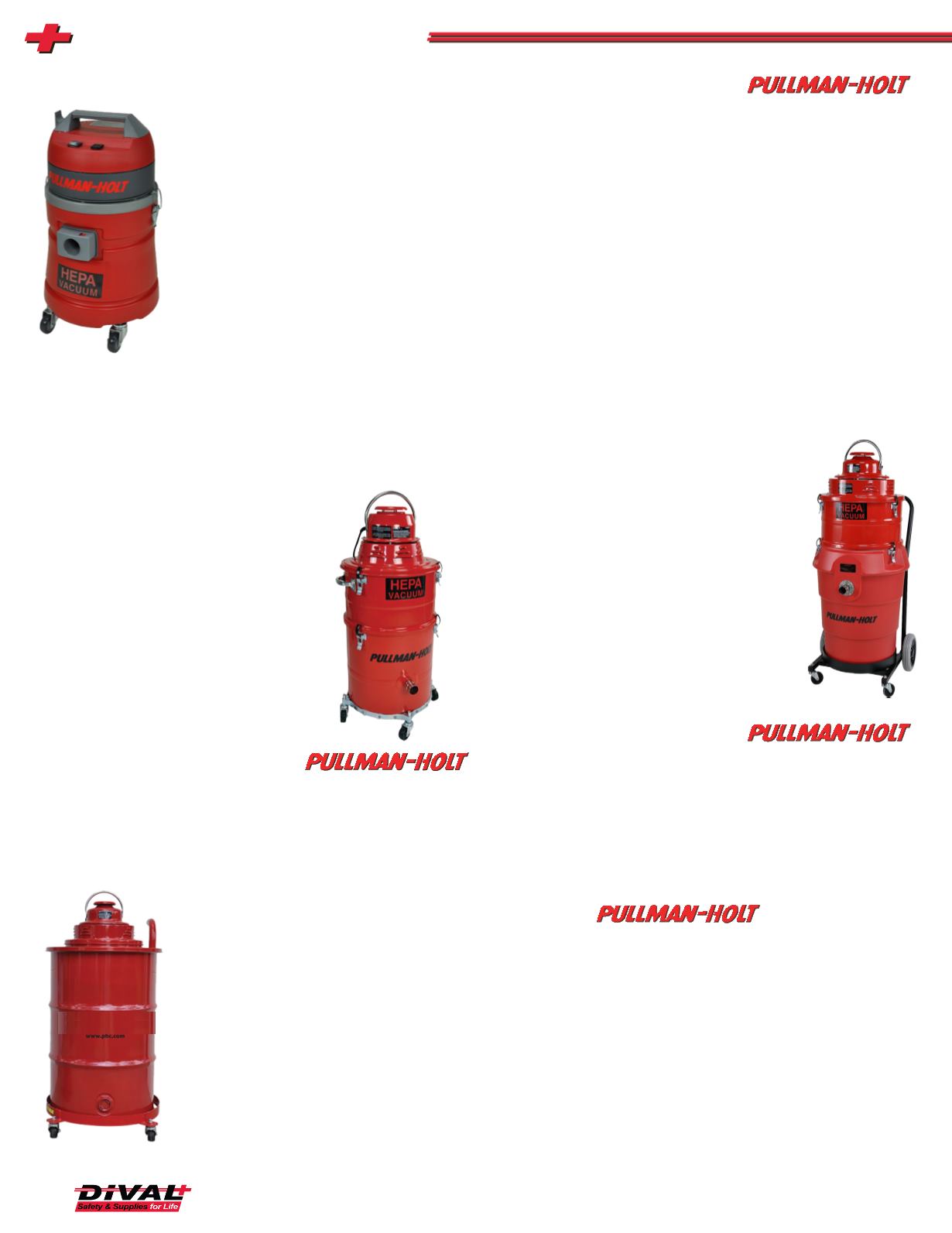 Professional Abatement Model
102 HEPA Wet/Dry Vacuum
• Heavy duty asbestos vacuum designed for
wet or dry pick-up
• A true work horse for heavy duty use in
professional abatement work
• 2 HP, 2 stage by-pass motor
• Polyester pre-filter is located on the
bottom of the HEPA filter
• Dacron filter bag covers the entire
spacer sleeve
• HEPA filter for three-stage filtration
• Complete tool kit: 10' hose, floor brush,
metal wand, floor squeegee and round brush
• 11.1 AMPS
• 105" Waterlift
• 110 CFM
• 25' power cord
Item #102ASB12P
Vacuum
Item #B160009
Plastic HEPA Filter
Item #B524253
Replacement Bags
Item #K29
Tool Kit
$1,125.00
/EA
$279.00
/EA
$4.35
/EA
Pullman-Holt Model 86 HEPA Wet/Dry
Compact All-Steel Vacuum with Tool Kit
• Designed to work in tight areas, on scaffolding
or any job site where a rugged steel compact
vacuum is required
• Easy to carry and transport
• Air seal gasket between the motorhead and
tanks forms a positive lock fit
• Heavy gauge steel tank with powder coated finish
• High efficiency 'Drop-in' style HEPA filter
individually certified to have a minimum
efficiency of 99.97% at 0.3 microns (based on
1EST-RP-CC001 particle count test method)
• Dacron filter bag covers the entire spacer
sleeve and HEPA filter for three-stage filtration
• Dacron material sheds dust to maintain
maximum vacuum efficiency, 25 ft. power cord
• Includes: crushproof hose assembly, steel
double bend wand, floor brush, squeegee
tool, crevice tool and dusting brush
Item #86ASB54C
5 Gallon
$918.00
/EA
Pullman-Holt 45 HEPA Dry Vacuum, 10 gallon, 2HP
Equipped with a powerful 2 HP motor and an extra large capacity HEPA filter system, the model 45 offers the air flow
efficiency of vacuums costing three times as much. The model 45 is manufactured to the same high standards as
large industrial HEPA vacuums, so it will withstand years of hard use. Designed for professional cleaning in abate-
ment, restoration and construction job sites, the model 45HEPA is compact and portable. It also meets the latest
EPA regulations for recovering lead dust (RRP). Includes a full assortment of attachments.
Item #B160414
$585.00
/EA
• High efficiency 'Drop-in' style
HEPA filter is individually tested
and certified to have a minimum
efficiency of 99.97% at 0.3 mi-
crons (based on 1EST-RP-CC001
particle count test method)
• Includes Pullman-Holt's
exclusive 'never-clog' dacron
bag for superior pre-filtration
• Blow molded poly canister with low
center of gravity design prevents tipping
• Positive locking, full swivel hose
connection system for easy
handling and operation
• Low noise allows for use in sound
sensitive areas
• 50' power cord
• 3 labels to choose from:
HEPA, Asbestos and Lead
Includes tool kit:
• Crush proof hose assembly
• Steel double bend wand
• Floor brush
• Crevice tool
• Dusting brush
#102ASB12P
Item #B160447
Drum Adapter, 2HP Motor
Item #B160009
HEPA Filter
Item #B000379
Drum Adapter for 55 Gallon
Item #55GLOPEN
55 gal. Drum with Lid
Item #140121
55 gal Steel Drum Dolly
$1,410.00
/EA
$279.00
/EA
$72.50
/EA
$42.50
/EA
$78.00
/EA
Pullman-Holt HEPA Big Red Drum
Wet/Dry Vacuum, 55 Gallon
• Big Red Drum Vacuum comes complete with drum and dolly
• Equipped with a 2-stage, 2 HP bypass motor, the Big Red
Wet/Dry Vacuum is ideal for heavy-duty service with fast
pick-up of most dirt, litter, soot and liquids
• Popular commercial 2HP, 2 stage long life motor sits atop an
all steel drum to create the ultimate in vacuum recovery
$125.00
/EA
Pullman-Holt Vacuums
YOUR DEPENDABLE SUPPLIER
of Safety Products and Much, Much More!
22
Includes tool kit:
• Crush proof hose assembly
• Steel double bend wand
• Floor brush
• Crevice tool
• Dusting brush
Each part sold separately
• 55 gallons in wet recovery
• 7.2 bushels of dry capacity
• 25 foot power cord