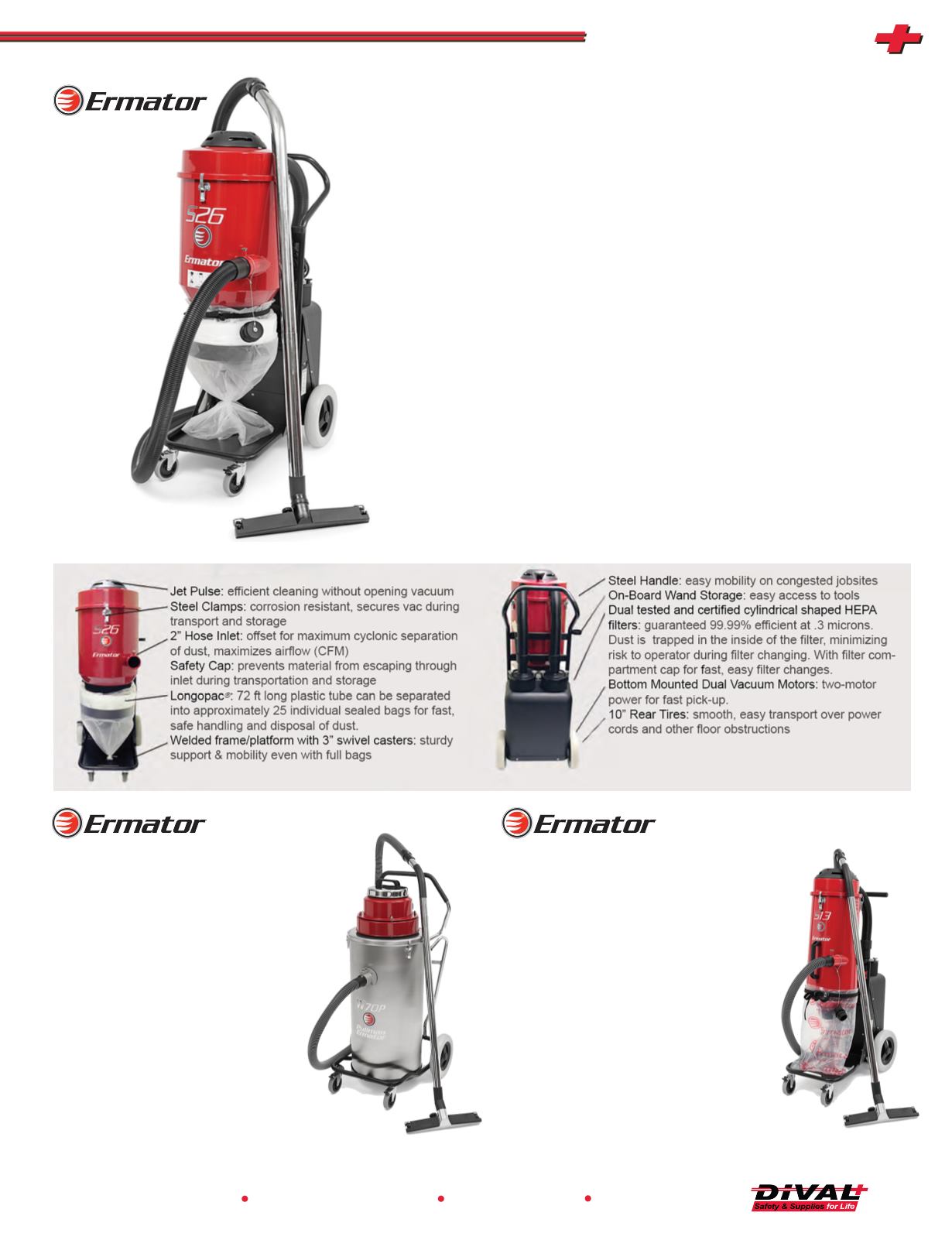 Ermator Vacuums
Ermator S13 Single-Phase
HEPA Dust Extractor
• 120V single motor HEPA Dust
Extractor can be connected to
electrical, hand-operated power
tools to extract freshly cut,
friable concrete dust
• The model S13 is also an
effective all-around construction
vacuum for picking-up a wide
range of building materials and
debris
• Comes with 16-foot, 1.5" hose,
wand and floor tool
• Includes a 6 mil, 10-gallon
disposable poly bag for
dust-free handling and disposal
Item #200900058A
$1,490.00
/EA
Pullman Ermator W70P
Slurry Vacuum w/ Pump
• Powerful wet cleaner with a 15 gallon
tank and evacuation pump
• Emptying is carried out via a valve
• The oil-cooled pump can handle
concrete sludge, oils and cutting fluids
• Equipped with a coarse separation
basket and wet suction bag
• The combined filter/float system
protects the motor
• Pumping out can take place at
the same time as suction
• Equipped with a large bottom valve
for simple cleaning
• The wheels are of the "non-marking type",
puncture-free and lockable at the front
Item #201000032C
$2,770.00
/EA
Item #200900059A
S26 HEPA Concrete Dust Extractor,
Single Phase, 120V
Unlike low cost homeowner vacuums, Ermator HEPA Dust Ex-
tractors are equipped with tested and certified HEPA filters that
trap the most dangerous-to-breathe dust particles and prevents
them from being released in the air. A HEPA Dust Extractor not
only exhausts perfectly clean air, it is far more efficient for the
fast recovery of bulk dry dust, debris and other building materi-
als found on every construction, abatement and restoration job
site. They can also be connected to electrical power tools to
extract the freshly cut and friable concrete dust, considered to
be the most hazardous to construction workers. It's time for you
to stop using an ordinary vacuum and step-up to the innovation,
performance and the power of a Ermator HEPA Dust Extractor.
The S26 is a powerful dust separator suitable for applications
involving fine dust. It can handle building, grinding, plaster and
concrete dust. It is equipped with a fine filter (flushable) and
an H13 filter which meets the asbestos requirements. An hour
counter and vacuum meter for filter control are standard.
Like all Ermator Dust Extractors, model S26 is equipped
with Jet Pulse filter cleaning, "drop-down" dust collection in
Longopac at 20 m plastic bags, and tested and certified HEPA
filters. The wheels are of the "non-marking type", puncture
tree and lockable at the front. Supplied complete with cleaning
equipment and transport protection.
$2,770.00
/EA
23
Phone
716.874.9060
Toll Free
800.343.1354
Fax
716.874.4686
DiValSafety.com