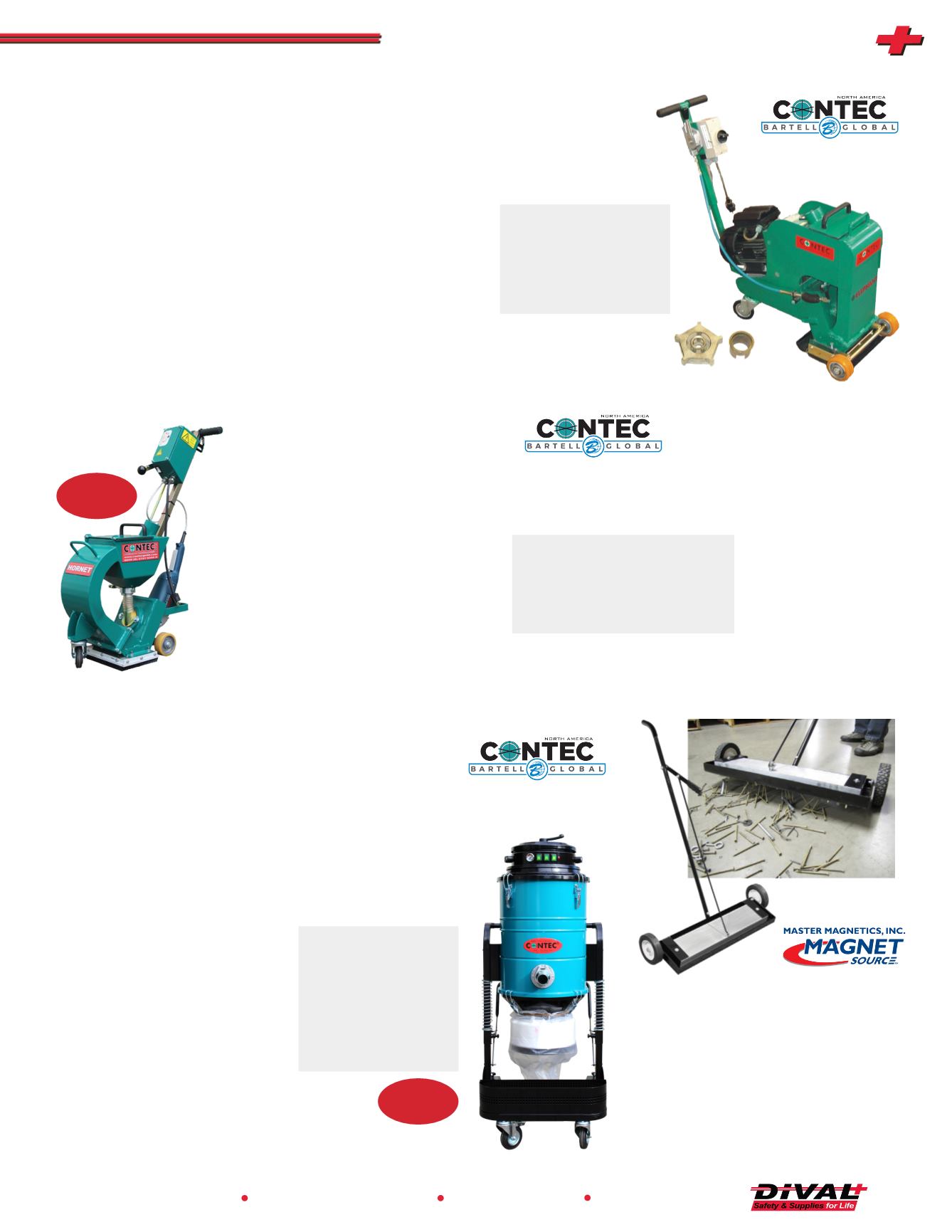 ELEPHANT® Mobile Shotblaster
• Compact design ensures easy transport
• Can be used where only single phase power is available, both
residentially and commercially: restaurants, garages and offices
• Low machine height for working under racking, scaffolding, and
work benches
• Dustless operation with a standard industrial vacuum
• Order recommended Dust Collector with HEPA filter (CDC3000H)
and shot blast pellets separately
Item #ELEPHANT230US
$10,740.00
/EA
HORNET® Shotblaster
• Powered by a long life, industrial
strength grinder motor
• Utilizes soft start technology, allowing
the use of a more powerful motor
• Height adjustable handle ensures
operator comfort
• Clear, concise ampere meter helps
ensure consistency
Item #HORNETUS
$7,720.00
/EA
The HORNET is a tenacious, yet highly
versatile shotblasting machine. Since it only requires a 110 volt, single phase, 20 ampere circuit,
it is extremely well suited for applications where power requirements are a concern. The unit is
lightweight and highly maneuverable yet still capable of delivering a properly prepared surface.
Technical Data:
Working Width: 8"
Motor: 2.1 kW
Voltage: 110 V, Single Phase, 20 Amps
Dimensions: 33" x 57" x 13"
Weight: 114 lbs
For dust free surface preparation of areas with restricted or limited access. The ELEPHANT
is safe and simple to operate with lightweight and compact dimensions. It is ideal for smaller
contracts which normally cannot be blasted economically. Specifically engineered to blast
close to the wall, minimizing handwork and edging, especially in the corners.
Technical Data:
Working Width 8"
Voltage: 230 V, Single Phase,
22 Amps
Motor: 5 hp
Dimensions: 33" x 35" x 12"
Weight: 177 lbs
CDC 3000 Dust Collector
Item #CDC3000H
$5,300.00
/EA
Whether fine dust or coarse materials, the Contec dust
collection systems outperform others in a wide range of
applications. Several models are engineered with the
contact free system which utilizes disposable bags to en-
sure that dust can no longer escape into the environment
at any stage of the removal process. Dust free handling
is especially important when working in sensitive and
hazardous environments. Applications for the Contec dust
collectors include:
• Industrial plants - Paint chip, dirt
and dust suppression/removal
• Construction industry - Superior
dust control for planers, scarifiers,
grinders, saws, shotblasters and
other tooling
• Builders for cleaning - removing
sand and rough material generat-
ed by hand tools
• Maintenance companies - to
remove litter and much more
Technical Data:
Voltage: 220 V
Motor: 5 hp
Dimensions: 62" x 26" x 33"
Weight: 150 lbs
Filter Surface: 20 sq ft
Airflow Max: 300 cu ft/min
Depression Max: 210 mbar
Dust Ports: 2.76"
Capacity: 26 gal
Item #1118991
24" Magnetic Sweeper
with Release
• Push-type sweeper
• 24" sweeping width
• 48" sturdy handle
• 6" diameter
rubber wheels
$194.25
/EA
Shotblasters & Debris Collectors
RENT
ME!
RENT
ME!
13
Phone
716.874.9060
Toll Free
800.343.1354
Fax
716.874.4686
DiValSafety.com
• Quickly drop col-
lected scrap metal
by pulling back on
the release handle
• Incredibly strong
and well built