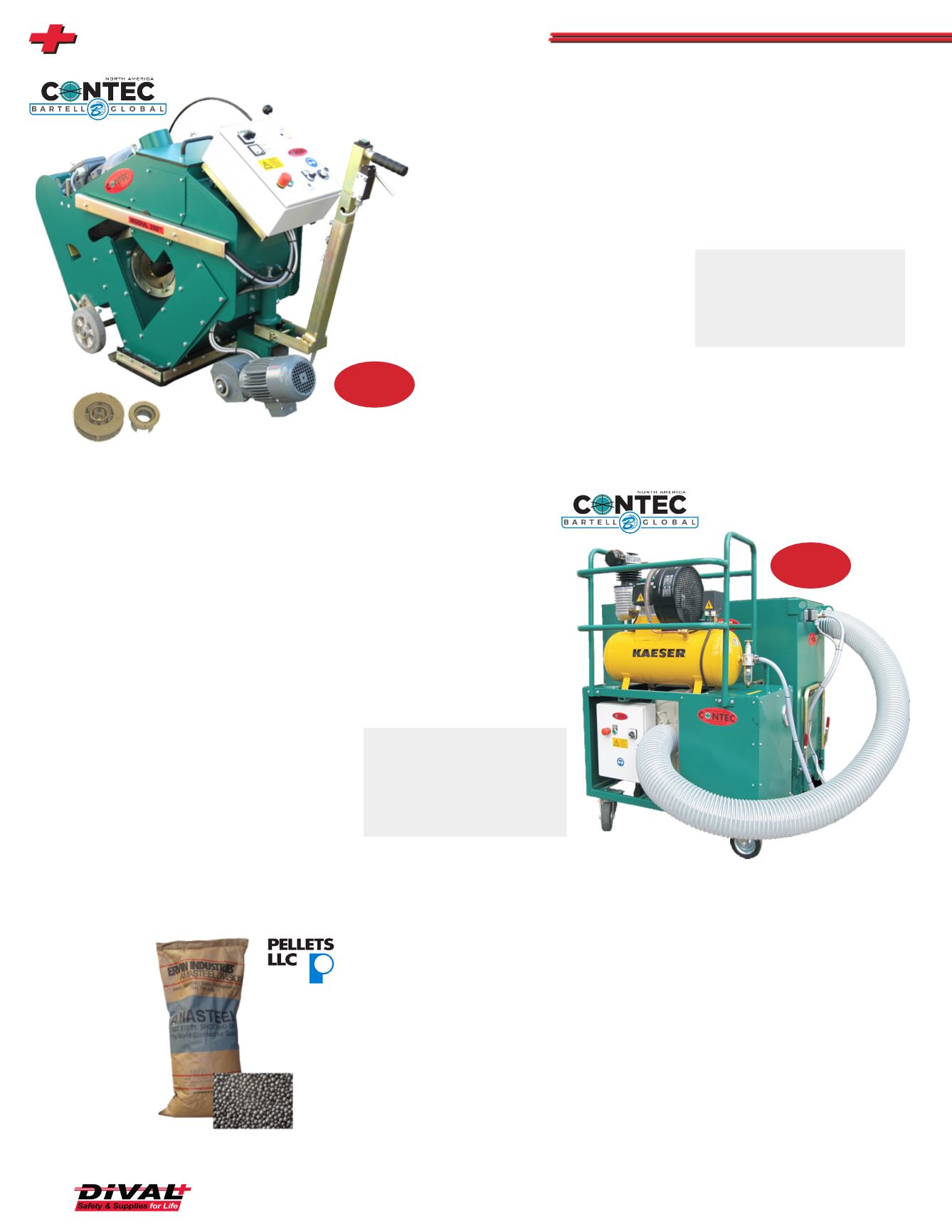 Shotblasters & Dust Collectors
R2D2 Dust Collector
Item #R2D2US
$24,300.00
/EA
Technical Data:
Voltage: 460 V, 3 Phase, 10.2 Amps
Motor: 9 hp
Dimensions: 58" x 40" x 20"
Weight: 353 lbs.
Airflow Max: 1,342 cu ft/min
Depression Max: 101.5 mbar
An extremely robust and powerful dust collector. Compressed air is rigorously
and automatically pulsed through the filter cartridges, continually cleaning them to
ensure optimum performance. Engineers from Contec took convenience to the max
when designing this unit by constructing the R2D2 as a two component system.
• Features simplified transportability,
yet while on your job site the units are
easily linked together to establish a
single rolling component
• The power unit is home to all the
electronics and components such as
the ventilator, motor and compressor
• Filter unit includes 5 long life filter
cartridges and the dust containment
system of your choice
• Steel shot can be used with the
HORNET, ELEPHANT and MODUL
350 floor surface machines
• Fast, efficient method for paint
removal from concrete
• Effective in cleaning concrete and
contaminant build-up on concrete floors
$55.00
/BG
Item #S390SHOT
Item #S460
$53.35
/BG
AMASTEEL Cast Steel Shot Blast
Module 350® Mobile Shotblaster
• Compact design ensures easy transport
• Exclusive "Travel Mode" that
prevents damage to dust skirt during
transportation, loading and unloading
• Long service life on consumables,
reduces operation and consumable cost
• Simplified maintenance
• Order recommended Dust Collector
with bag filter (R2D2US) and shot blast
pellets separately
Item #MODUL350US
$39,125.00
/EA
The MODUL 350 offers the ultimate in mobile, dust free blast cleaning. It
is the most versatile and effective surface preparation system available
in it's class. The unique design and high powered blast motor, combine
for superb performance making it ideally suited for very hard concrete,
coatings, also for steel decks, bridges and tanks.
Technical Data:
Working Width: 14"
Motor: 23 hp
Voltage: 460 V, 3 phase, 36 Amps
Dimensions: 42" x 69" x 22"
Weight: 882 lbs
• Filter unit available in two distinct
versions
• The basic version uses a wheelbarrow
concept available in two different sizes
• The second version collects the dust
in buckets, allowing those to be lined
with disposable bags
• With shot blasting you are able
to remove mill scale, dirt, rust,
other surface contaminants, or
paint removal from concrete
to restore surfaces to their
original state
• 50 lb bag
RENT
ME!
RENT
ME!
YOUR DEPENDABLE SUPPLIER
of Safety Products and Much, Much More!
12