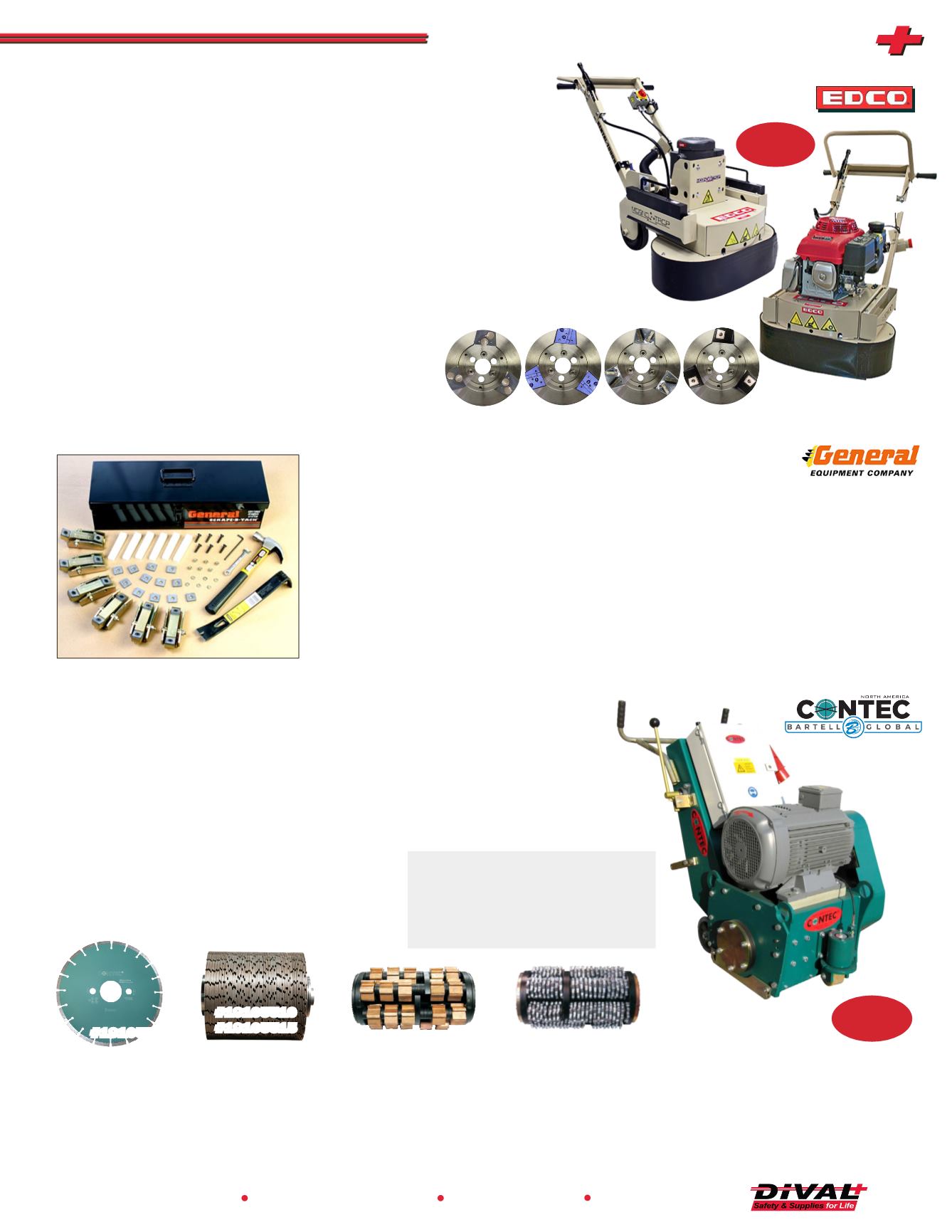 • Quickly removes mastics,
urethanes, epoxies, paints
and other materials from
concrete surfaces
• Replaceable tungsten
Carbide inserts each
feature eight wear edges
for unmatched ROI
SCRAPE-R-TACH® Floor Coatings Removal Kit
Item #SG241900KIT
$1,085.00
/EA
Item #CT320US
• Made for the absolute toughest
applications and floors
• Precision aligned, heavy duty bearings
ensure low maintenance and trouble
free operation of the machine
• The CT 320 is equipped with
a variable speed drive unit
• The ergonomically damped handle
bars ensure reduced operator fatigue
Technical Data:
Max Working Width: 12.6"
Motor: 23 hp
Voltage: 480 V, 60 Hz, 3 phase, 26 Amps
Dimensions: 43" x 43" x 24"
Weight: 507 lbs Without Drum
Contec 3-Phase Floor Planer, 480 Volt
$16,395.00
/EA
Item #19105508
Diamond Blade 300mm
Item #19105510
Diamond Drum No blades or Spacers
Item #19105515
Diamond Drum 3mm Spacer
Item #9510320K
Drum with Carbide Tipped Cutters
Item #95108020K
Drum with Milling Cutters
$5,370.85
/EA
$2,996.40
/EA
$5.95
/EA
$1,724.35
/EA
$124.40
/EA
Item #59200E
Electric Grinder
Item #59300
Gas Grinder
Item #A150
Tool Box Kit
• The need for wooden wedges goes
away with EDCO's NEW Magna-Trap®
Slide-On Tooling
• Adjust the machine's height, use a wide
range of accessories, and truly grind level
• Level grinding is quicker, smoother, easier on
the operator, and increases accessory life
• Heavy-duty Velcro Dust Shroud makes
dust prevention easier, readjust the shroud
according to the height of the accessory
being used
• Built-in weight tray accepts up to 80 lbs
of extra weight
Magna-Trap® Dual-Disc Floor Grinder
#A150
#59300
#59200E
#19105510
#19105515
#9510320K
#95108020K
#19105508
• Multi-Vac port for use with 2″ or 3″
vacuum hose
• 22″ working width will grind approximately
400-500 sq ft per hour at 1/32″ with
EDCO Dyma-Serts
• Includes 2 magnetic multi-accessory discs,
which accept Dyma-Serts, Strip-Serts and
all other Magna-Trap® grinder accessories
• Counter-rotating discs prevent machine
from pulling side to side and give operator
greater control
• 6 grinding accessories required per loading
• Gas and electric power options available
$5,495.50
/EA
$1,650.00
/KT
$6,790.00
/EA
Kit includes:
• Six SCRAPE-R-TACH units
• One set of replacement inserts
• Installation/removal tools
• All stored in a heavy-duty,
steel tool box
The SCRAPE-R-TACH® System has proven to be the most popular, cost effective
and environmentally friendly solution available for a wide cross section of coatings removal applications.
• An extensive range of cutting tools make
this an extremely versatile machine
• The CT 320 is capable of cutting depths
down to 25mm
• If deeper depths are necessary, the CT
320 can be ordered in the low chassis
version, enabling cutting depths of 40mm
• Pivoting head design increases
material removal rates while
providing dynamic stability that
minimizes any damage to the
cap surface
• For use with popular General®,
EDCO® plus other single and
dual head surface grinders
Floor Grinders & Accessories
RENT
ME!
RENT
ME!
17
Phone
716.874.9060
Toll Free
800.343.1354
Fax
716.874.4686
DiValSafety.com