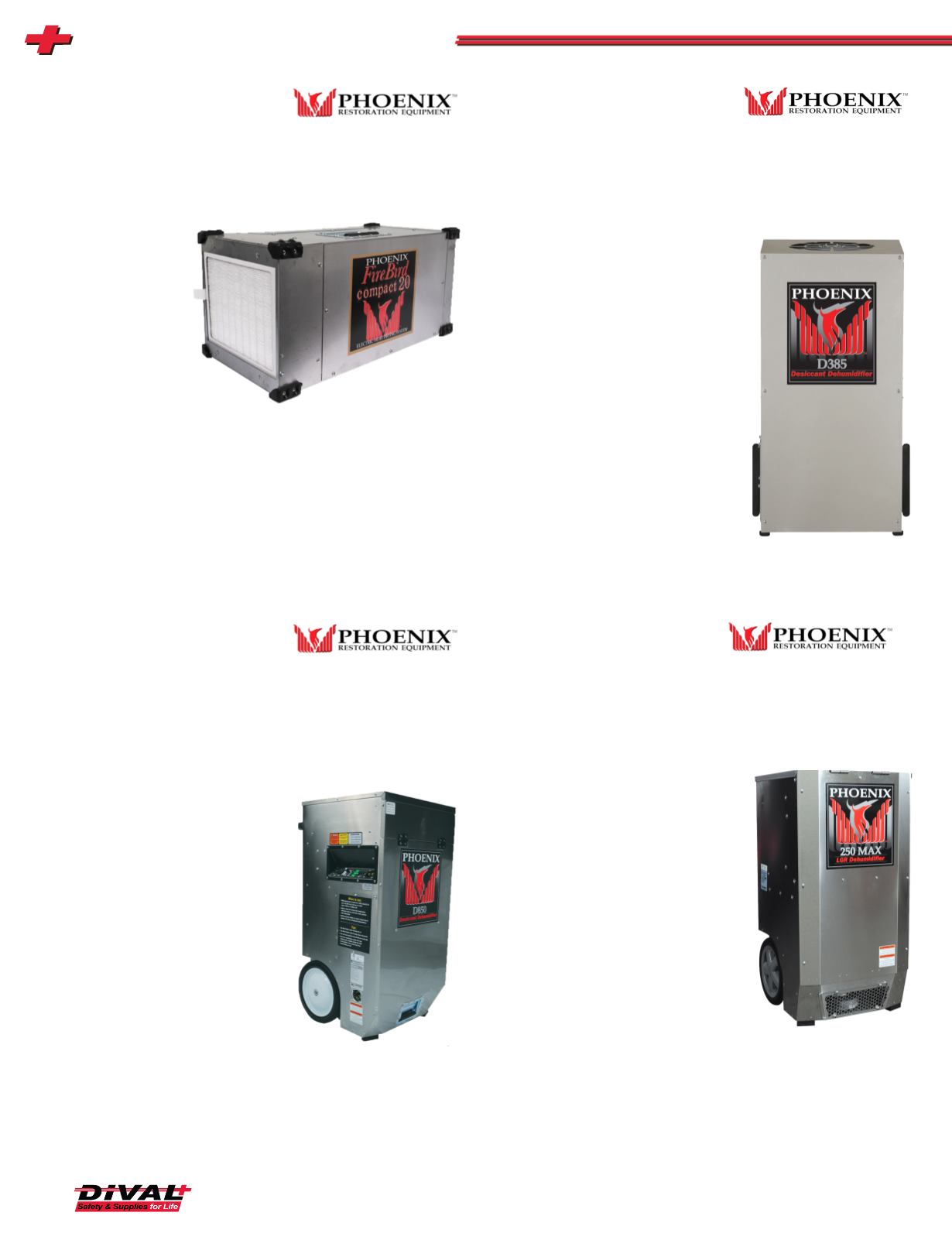 Phoenix™ 250 Max
LGR Dehumidifier
Item #4030010
Phoenix has engineered high efficiency and high temperature
operation into one amazingly effective drying machine: the 250
MAX. A top-level professional dehumidifier, the Phoenix 250
MAX gives you outstanding low grain operation coupled with
exceptional high temperature performance.
$2,650.00
Heaters & Dehumidifiers
Phoenix FireBird
Compact 20 Heater
FireBird Compact 20 can provide up to 20,000
BTUs of instant heat and, with its 13" x 12.5" x
26" durable stainless steel cabinet, can operate
virtually anywhere on the jobsite that heat is
needed to speed up the drying process.
Item #4033450
$2,148.00
Phoenix D385
Desiccant Dehumidifier
Item #4026700
$3,279.00
The Phoenix D385 provides the perfect combination of
features and performance the restoration industry has been
craving in a desiccant dehumidifier. Ingeniously designed to
operate vertically or horizontally, the Phoenix D385 provides
the wide operating range and ultra-low grains of a desiccant
with the water removal capacity of the largest LGRs.
Phoenix D850
Desiccant Dehumidifier
The Phoenix D850 provides the perfect blend of portability,
versatility, and performance the restoration industry has been
seeking in a medium-capacity desiccant dehumidifier. The
included remote humidistat and process blower speed control
allow you to tailor the drying to the task at hand. The D850
operates both vertically or horizontally and is perfect for low
clearance applications, fitting inside most crawlspaces.
Item #4034000
$8,999.00
• 370 pints per day at AHAM (80°F, 60% RH)
• 850 CFM process airflow
• Wide operating range
• Operates vertically or horizontally
• True four-hole configuration
• High or low power (50A or 30A)
• Two 8' power cords (1 dryer, 1 range)
included with unit
• Power cords can be stored on-board
• Remote humidistat (with 25' connecting
cable) included with unit
• Multiple ducting options
• Rugged stainless steel cabinet
• Power: 208-240VAC, 50/60Hz, Single
phase 30A or 50A branch circuit protection
• Water removal: 370 pints/day at
AHAM, 92.5 gal/day at saturation
• Blower: 850 CFM
• Operating range: 33°F to 125°F
• W x H x D: 20" x 40" x 2"
• Weight: 119 lbs
• Powerful, stainless steel, professional look
• Large 12" recessed wheels, hemmed
metal edges, and chamfered corners
• Hinged lid swings open for easy filter change
• Uses electro-mechanical controls
(no electronic panel) and features a beefy
1/8" skid plate with optimized axle position
to reduce impact going down stairs
• Efficient layout provides easy access
to quality components such as our
industry-leading coated evaporator
coils providing extended life even in
the harshest environments
• Heavy-duty long life condensate
pumps are also standard
• Offers multiple ducting options for simple
and easy inlet/outlet ducting
• Power: 8.2 Amps
• Water removal:145 pints/day
at AHAM (80°F, 60%)
• Blower: 365 CFM
• Weight: 153 lbs
• Operating Range:
-10°F to 120°F
• 20" x 41" x 23.25"
• Compact size, lightweight
• Double-walled,
screened enclosure for
heating elements
• Automatic internal 140ºF
safety thermal cutout
• Phoenix thermostat with
25' connecting wire
included with the unit
• Listed by ETL to UL
Safety Standards
• Stainless steel cabinet
• Stackable for easy storage
and transportation
• Power: 4, 12 Amp; 120 VAC circuits
• Heat output: 5,000–20,000 BTU
• Blower: 250 CFM
• Temperature rise: 17°F to 70°F
• 13″ x 12.5″ x 26″
• Weight: 35 lbs
YOUR DEPENDABLE SUPPLIER
of Safety Products and Much, Much More!
84
• Operates vertically or horizontally
• Wide operating range
• Process airflow 385 CFM
• Reactivation airflow 75 CFM
• 116 pints water removal per day at AHAM
• Ultra low grains
• Two 23' power cords: Each 115 Volt/60 Hz;
11 Amps per cord
• 22 Amps/115 Volts total
• Unlimited ducting possibilities
• Legendary stainless construction
• Power: 2, 11 Amp; 115 VAC circuits
• Water removal: 116 pints/day at AHAM
• Blower: 385 CFM
• Operating range: -10°F to 140°F
• 24.25″ x 40″ x 21.375″
• Weight: 105 lbs