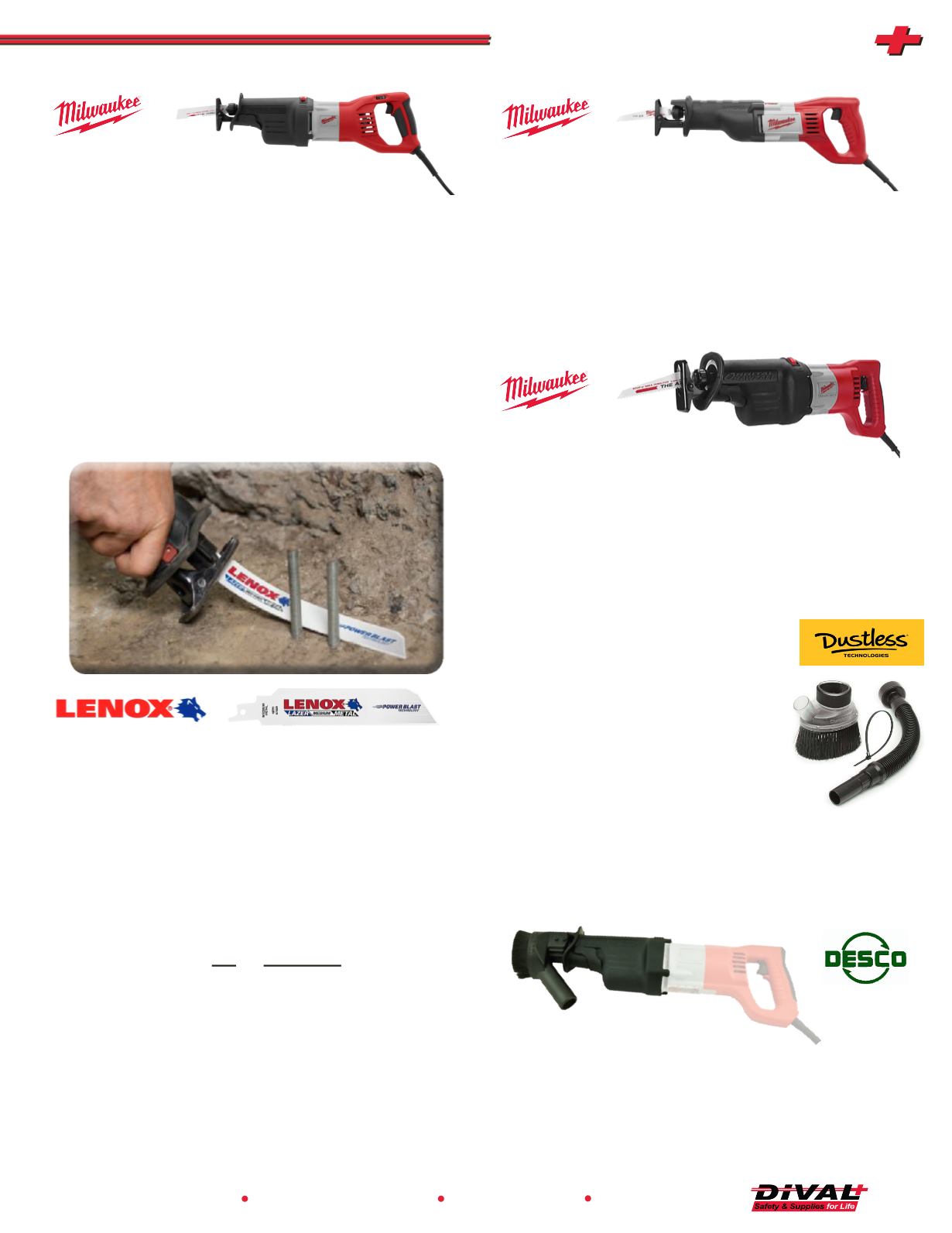 $123.50
/EA
Item #651931
$169.00
/EA
Item #652021
Milwaukee 13 Amp
Orbital Sawzall® Recip Saw
• 13 amp Milwaukee built motor
• 0-2,800 strokes per minute
• Keyless blade clamp with
adjustable shoe allows user
to easily change blades
Milwaukee 12 Amp
Sawzall® Recip Saw Kit
• 12 amp motor
• 0-3,000 strokes per minute
• 1-1/8" stroke length provides
maximum cutting speed
• Gear protecting clutch
• 15 Amp Milwaukee motor
with the highest overload
protection that prevents
motor burn up or failure
• Constant power technology
maintains constant speed
under load for unmatched
cutting performance
• Patented gear protecting
clutch extends gear and
motor life by absorbing high
impact forces caused by
sudden blade lock ups
Item #653821
$219.99
/EA
Super Sawzall®
Recip Saw, 15 Amp
Item #D2415
$89.00
/EA
• Clear flexible rubber shroud with
fast and easy Velcro installation
• 2 1/2" bristled snout with line-of-sight
gap for an unobscured view of blade
for precise cutting
• Captures 99% of airborne dust
• Fits a wide variety of reciprocating saws
and rotates to match blade installation
• Complies with EPA and RRP regulations
• Includes: universal dust shroud,
18" connection hose, and zip tie
Item #400.002
$499.00
/EA
• Reciprocating dust shroud for Milwaukee 6520-21 saw
• Heavy-duty metal shroud with vacuum port
Desco Reciprocating Dust Shroud
SawBuddie Reciprocating
Saw Dust Shroud
• Counter balanced mechanism
makes it the smoothest running,
lowest vibrating reciprocating saw
• Variable speed trigger and
dial speed control allows for
maximum speed control
• Quik-Lok™ Blade clamp system
provides fast and easy blade
changes
• 18-3/4" length, 120 V AC. Keyless
adjustable shoe. Keyless blade
clamp. Orbital Action. 1-1/4"
stroke length. 1 Carrying Case.
• Counter weighted mechanism
provides reduced vibration for
smoother operation
• QUIK-LOK™ blade clamp provides
fast, tool-free blade changes
• 19" length, 120V AC, 7.1 lbs
• Orbital cutting action
• Exclusive gear
protecting clutch
• 18¾" length, 120V
AC, 8.8 lbs, 8' cord
• Economical, durable
reciprocating saw dust shroud
• Power Blast Technology™
increases blade life
• High speed blasting along
the cutting edge strength-
ens the blade to reduce
breaks and increase
durability
• Taller and thicker blade
profile prevents bending
during cutting and provides
maximum control
LENOX Reciprocating Saw Blades
TPI
L x W x Th
#20514B6606R
6 6 x 1 x .062
#20485B106R
6 12 x 1 x .062
#20177B9110R
10 9 x 1 x .042
#20179B9114R
14 9 x 1 x .035
#20175B6118R
18 6 x 1 x .035
#20181B9118R
18 9 x 1 x .035
#20191B12118R
18 12 x 1 x .042
#20529B618R
18 6 x 3/4 x .035
#20487B818R
18 8 x 3/4 x .035
$3.30
/EA
$2.75
/EA
$3.30
/EA
$4.05
/EA
$3.05
/EA
$3.40
/EA
$2.75
/EA
$3.85
/EA
$3.30
/EA
31
Phone
716.874.9060
Toll Free
800.343.1354
Fax
716.874.4686
DiValSafety.com
Sawzalls & Dust Shrouds
• T2™ Technology reduces
cutting forces on each tooth
and optimizes chip removal
to allow efficient cutting in the
widest range of materials
• Taller blade profile delivers
straighter cuts and longer life
in the most demanding metal
cutting applications
• 25 blades per pack