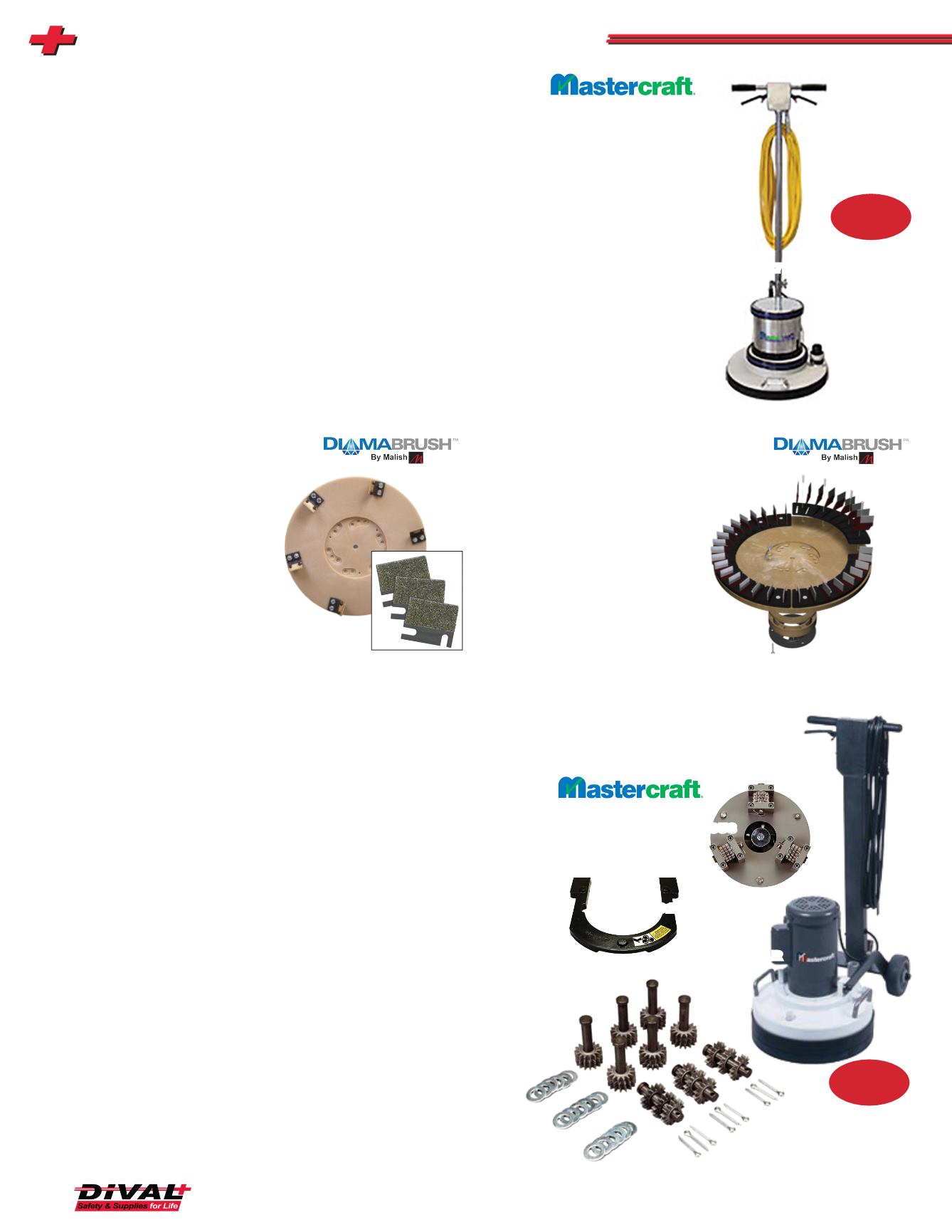 Item #ZMSTBLD25R6
6 Blades/Pk
$217.40
/PK
$1,450.00
/EA
MasterCraft® Deluxe Floor Prep Machine
#MD17EMAS
Item #MD17EMAS
Floor Machine
Item #921501202
15" Diamabrush™ Coating Removal Tool
Item #921701202
17" Diamabrush™ Coating Removal Tool
Item #941501202
15" Diamabrush™ Floor Prep™ Plus Tool
Item #941701202
17" Diamabrush™ Floor Prep™ Plus Tool
Item #ZMSTBLD25R6
Replacement Blade Kit, 6 per Pack
$360.25
/EA
$456.40
/EA
$679.05
/EA
$715.00
/EA
$217.40
/PK
$360.25
/EA
$456.40
/EA
Diamabrush™ by Malish
Coating Removal Tool
• Diamond abrasive floor preparation
system for concrete floor polishing,
mastic removal and hardwood prep
• Designed to remove stubborn coatings
from concrete, such as mastic, carpet
or tile adhesive, thin-set and thin mil
coatings like urethane or paint
• Mounts to any standard floor buffer or
auto scrubber
• Diamond coated blades to grind tough
coatings away
Item #921501202
15" Diameter
Item #921701202
17" Diameter
$679.05
/EA
$715.00
/EA
Diamabrush™ by Malish
Concrete Prep Plus
• Mechanically etch and pre-
pare bare concrete floors to
receive a coating creating
superior coating adhesion
• Prepare and profile old,
worn, dirty floors using
standard 110 volt single
disc flooring machines
Item #941501202
15" Diameter
Item #941701202
17" Diameter
Designed for mastic and coating removals, and concrete floor profiling. MD17E-MAS provides
a productive, economical and environmentally-safe method for concrete preparation process.
• Oversized handle grips for operator's comfort
• All steel triple-planetary gear system permanently
lubricated, operates at 175 RPM with a 1.5 HP
motor, 120V, 15 amps
• Brush size 17", brush speed 175 RPM
• 50' power cord, 3-wire, safety yellow with
water-resistant jacket
• Adjustable dust shroud for airborne fiber containment
Replacement Coating Removal Blade Kit, 25 Grit
• Heavy-duty switch set in a die cast aluminum switch
box, which won't chip or rust
• Flexible dual triggers for left or right hand operation
• Non-conductive, built-in safety lockouts for accidental
startup prevention
• 5" heavy-duty reinforced six-point cast aluminum
wheel support system
Mastercraft 16" 1760 RPM Floor Machine
Item #MTHC16ELR
Floor Machine
Item #491691
20 lbs. Resurfacing Weight
Item #492353
6.5" Carbide Scarifier
Item #492361
Replacement Scarifier Set
$4,830.00
/EA
#MTHC16ELR
#492361
#491691
#492353
$140.00
/EA
$892.00
/EA
$410.00
/EA
The multi-purpose machine is designed for surfacing concrete floors, restoring or preparing
wood decks and hardwood floors. Unique belt drive, three-head system is designed for smooth
operation with superior results. Counter-rotating head makes this machine easy to operate and
control with no sliding. Equipped with 6" transport wheels and vacuum port.
• Flexible dual triggers for left or right hand
operation, non-conductive with built-in
safety lock-out to prevent accidental
startup
• Heavy duty switch set in die cast
aluminum switch box won't chip or rust
• Handle and frame constructed of
heavy-duty steel for strength and durability
• Handle has a quick disconnect for transport
• Outer bowl assembly made of spun steel
with lift handles, vacuum ports and inner
bowl made of cast aluminum
• Heavy duty power cord with 3 wire
grounded, with water resistant jacket
• 16" machine is equipped with
a 30' 12/3 power cord
• Heavy duty motor with dual
capacitors, 16" is equipped
with 1.5 HP motor
• Adjustable bottom dust skirt
• Solution 4 gallon tank, dispenses
liquid for diamond cutting
(On wet machines only)
Floor Prep Machines & Accessories
RENT
ME!
RENT
ME!
YOUR DEPENDABLE SUPPLIER
of Safety Products and Much, Much More!
18