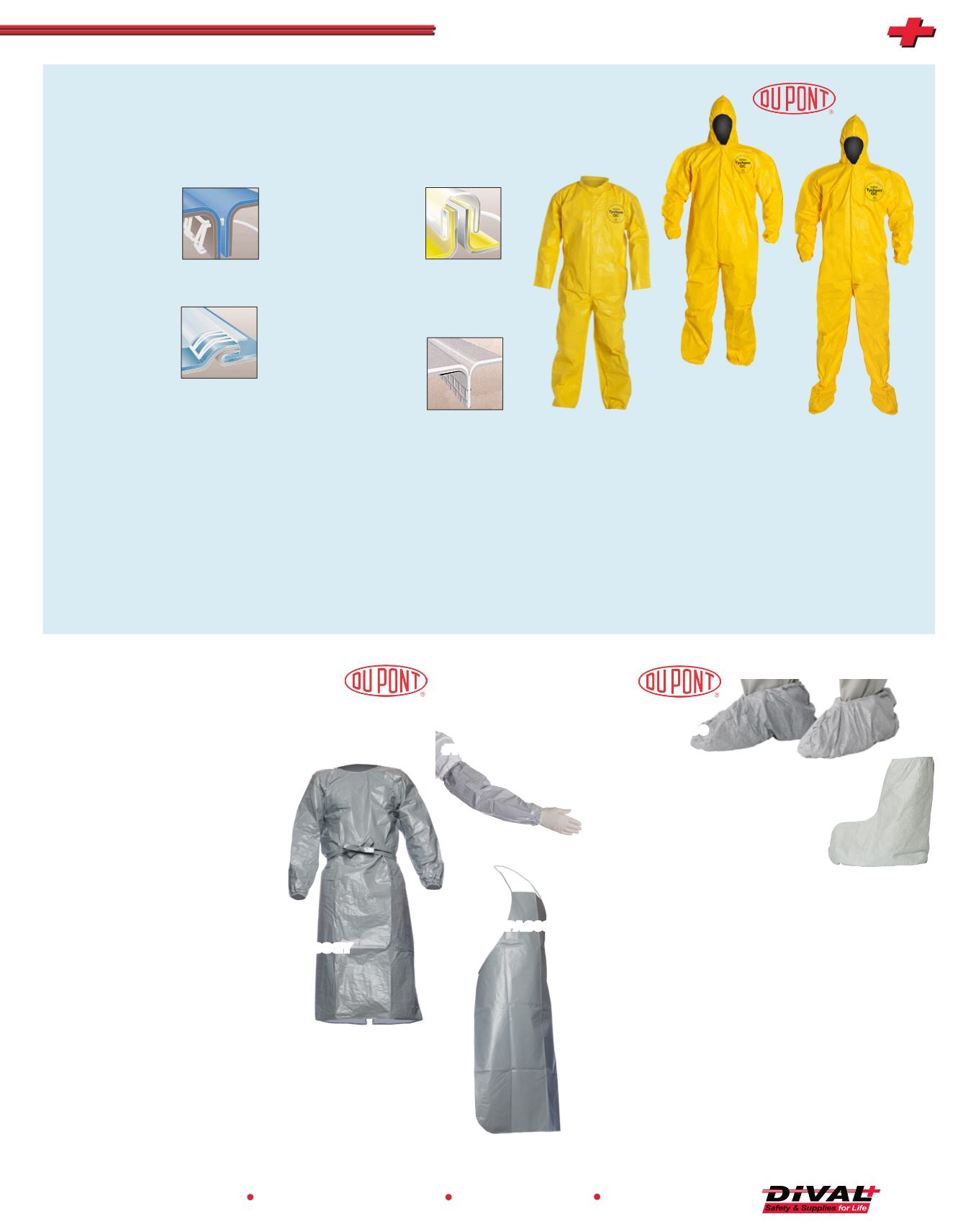 Item #TYFPL50SGY(size)
Shin-Length Gown, 25 per case, Sizes SM, LG/2XL
Item #TYFPA30SGY
Shin-Length Apron, 25 per case, Universal Size
Item #TYFPS32SGY
Stitched and Overtaped 18" Sleeve, 50 per case, Universal Size
Chemical Protective Coveralls
11
Phone
716.874.9060
Toll Free
800.343.1354
Fax
716.874.4686
DiValSafety.com
$142.00
/CS
$114.00
/CS
DuPont™ Tychem® 2000 Coveralls
$98.00
/CS
$119.00
/CS
$136.75
/CS
$104.00
/CS
$118.00
/CS
$211.00
/CS
Available at additional cost 2XL-6XL
Taped Seams
Bound Seams
Serged Seams
Standard Coverall
EWA, Hood
EWA, Hood, Boots
Item #QC120SYL(size)
MD-XL Serged Seams Standard Coverall
12 per Case
Item #5428(size)
SM-XL Serged Seams EWA, Hood
12 per Case
Item #5414(size)
MD-XL Serged Seams EWA, Hood, Boots
12 per Case
Item #QC120BYL(size)
MD-XL Bound Seams
Standard Coverall
12 per Case
Item #QC127BYL(size)
LG-XL Bound Seams
EWA, Hood
12 per Case
Item #QC122BYL(size)
MD-XL Bound Seams
EWA, Hood, Boots
12 per Case
Item #QC122T(size)
MD-XL Taped Seams
EW, Hood, Boot Socks 4 per Case
Item #QC127TYL(size)
MD-XL Taped Seams
EWA, Hood
4 per Case
A seam produced
when multiple
threads are inter-
locked around the
raw edges of two pieces of material
for a strong, stress-resistant seam.
Tightly sewn with
a reinforced outer
binding to increase
seam strength and
barrier. For potential misting
exposure of non-hazardous
liquids or particle penetration
through the seam.
Both sewn and
taped to provide
strong chemical
resistance against
heavy liquid splashes and tough
seam stress. A sewn seam is
covered with a strip of compati-
ble material by heat-sealing.
DuPont™ Tyvek® QC is a lightweight, durable fabric. Tyvek® QC utilizes the
strength of DuPont™ Tyvek® fabric and a polyethylene coating. Tychem® QC
fabric provides at least 30 minutes of protection against 42 chemical challenges.
Tychem® QC is used for light splash protection in a variety of industrial environ-
ments. Tychem® QC is yellow for high visibility.
Welded Seams
This type of sealed
seam is produced
when materials are
lapped and thermally
welded. There are no fillers,
thread or needle holes.
DuPont™ Tychem® 6000
Protective Apparel
• Made of a proprietary barrier film
laminated to a Tyvek® substrate
• Provides at least 30 minutes of
protection against over 181
challenge chemicals including
chemical warfare agents and
toxic industrial chemicals
• Strong, durable and lightweight
$570.00
/CS
Gown and Apron are:
• Partial body chemical
protective clothing,
Category III, Type PB [3]
• EN 14126 (barrier
to infective agents)
• Anti-static treatment
(EN 1149-1) - on inside
• Gray color
$170.00
/CS
$135.00
/CS
#TYFPL50SGY
#TYFPA30SGY
#TYFPS32SGY
DuPont™ Tyvek® protective
fabric with a skid resistant
friction coating. Used
exclusively for shoe and
boot covers and skid-resistant
booties in select Tyvek® coveralls.
Composed of flash spun high density
polyethylene which provides excellent
protection, durability, and comfort. Protects
against light liquid splash and dry particulates.
Non-skid bottom, serged seams.
DuPont™ Tyvek® 400
Shoe & Boot Covers
Gray Shoe & Boot Covers
• Flash spun high
density polyethylene
$114.00
/CS
Item #4500
Shoe Covers 5" High, 200 per case
Item #FC454SGY
Boot Covers 18" High, 100 per case
$127.25
/CS
• Non-skid bottom
• Elastic top
#4500
#TY454SWH