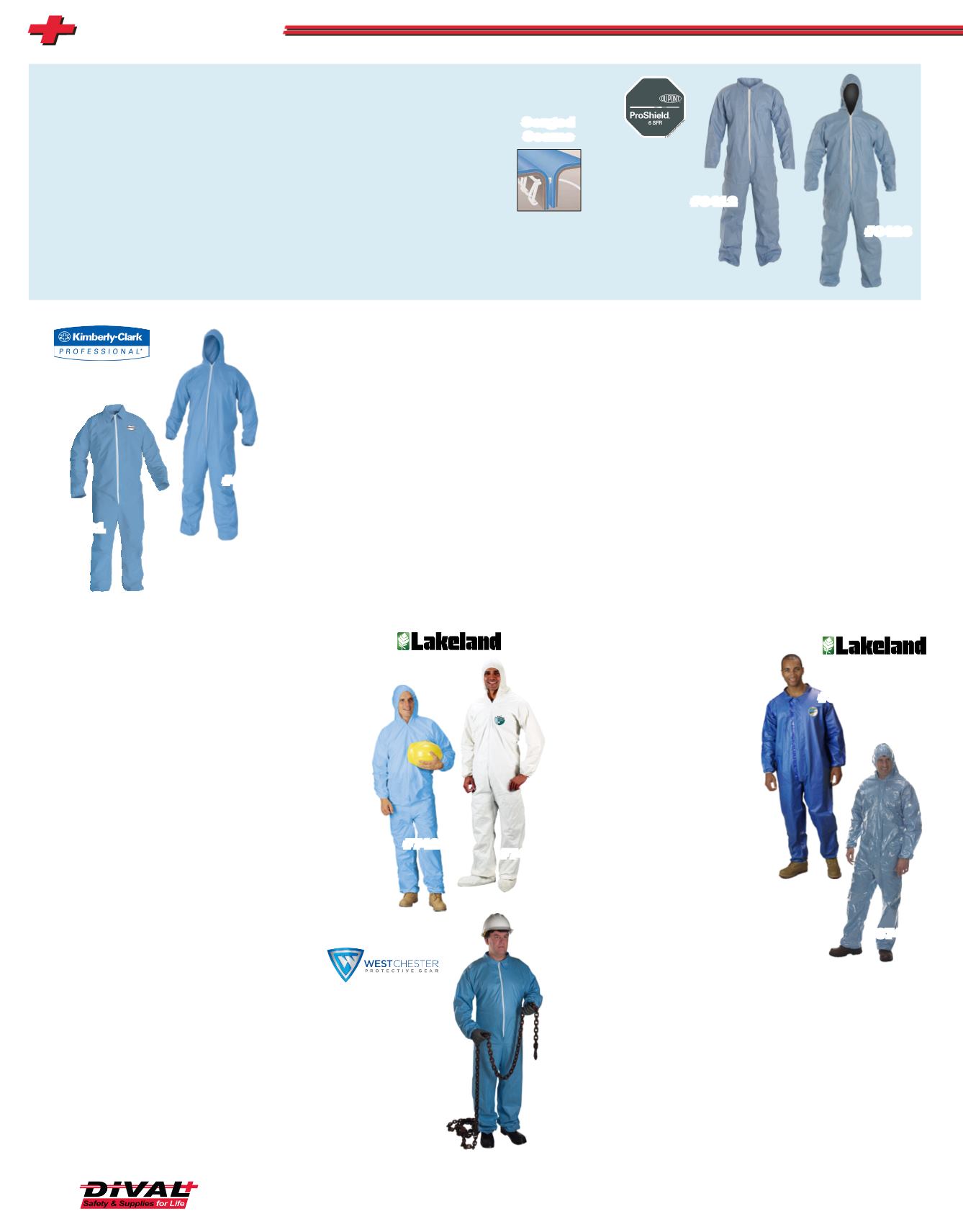 FR Coveralls
YOUR DEPENDABLE SUPPLIER
of Safety Products and Much, Much More!
10
DuPont™ ProShield® 6 SFR Coveralls
DuPont™ ProShield® is a disposable overgarment designed to
help protect and preserve primary flame resistant garments.
$155.00
/CS
$175.85
/CS
KLEENGUARD* A65 Standard FR Coveralls
$161.25
/CS
$169.75
/CS
#4531
#4532
Item #4531(size#)
MD(2)-XL(4)
FR Coverall
Item #4532(size#)
MD(2)-XL(4)
FR Coverall, Hood
Item #8412(size)
MD-XL Standard Coverall
Item #8428(size)
MD-XL EWA, Hood
#8412
#8428
Available at additional cost 2XL(5)-4XL(7) *These sizes packed 21/case
Available at additional cost 2XL-6XL
While not primary fire protection gear, KLEENGUARD* A65 coveralls
are designed to be worn in areas where exposure to sparks is possible.
• Typical uses: welding, oil refining,
utilities, grinding
• Three-layer fabric construction
• Middle layer of microporous film
that allows heat and sweat vapor
to escape while protecting against
dry particulates and liquid
• ANSI/ISEA 101-1996
sizing standard
• Comfortable, breathable and
durable fabric resists tearing
• Complies with the flame
resistance requirements cited
by paragraph 6.1 of CAN/
CGSB-155.20-2000
• Intended to be worn over primary
flame resistant garments to provide
a barrier against non-hazardous
particles and aerosols
• Flame retardant treated,
not inherently flame resistant
• Serged seams
• 25 per case
West Chester Posi-Wear
FR Coveralls
Posi-Wear® FR combusts and disperses
away from the primary protective garment.
• Soft, spunlace self-extinguishable
material is also highly oil repellent
• Use only as a secondary garment in oil
refining, weldingor utilities applications
where sparks might be present
$165.00
/CS
Item #3100(size)
LG-XL
Available at additional cost 2XL-5XL
$198.00
/CS
Pyrolon® Disposable
CRFR Coveralls
• Designed to be worn
over woven thermally
protective coveralls,
such as woven Nomex®
• For environments where
flash fire is a concern
• Self extinguishing,
won't melt or drip
• Light chemical
splash protection
• Pyrolon® CRFR garments
bar contaminating flammables
like paint, oil and grease,
hazardous liquids and
contaminants, and dry particulates
from penetrating to inner clothing
• Disposable and chemical resistant
• Meets NFPA 2113 requirements
• Elastic wrists and ankles (EWA)
• 6 per case
$167.75
/CS
Item #37417(size)
Sizes MD-XL, EWA
Available at additional cost 2XL-5XL
Item #37428(size)
Sizes MD-XL, EWA, Hood
Available at additional cost 2XL-5XL
#37417
Lakeland Pyrolon® Plus 2
FR Coveralls
• Pyrolon® Plus 2 has been
tested to ASTM F1930
• When worn over thermal-
ly protective coveralls,
Pyrolon® Plus 2 can
reduce body burn injury
• Attached hood
• Zipper
$175.20
/CS
$184.00
/CS
Item #7428B(size)
Sizes SM-XL, EWA, Hood
Available at additional cost 2XL-5XL
Item #7414(size)
Sizes MD-XL, Hood, Boots
Available at additional cost 2XL-5XL
• Strong, wet or dry, over
other traditional FR
disposable garments
• Cool and comfortable
garment to wear
• For work environments
where environmental
and health related con-
taminants are present
#7414
#7428B
#37428
• 25 per case
• Anti-static and
ANSI sized
• Meets NFPA 701
specifications
• Open wrists and ankles
• Laydown collar
• 25 per case
Serged
Seams
• Flame resistant compliant
per NFPA 701 FLAME
PROPAGATION TEST
• NFPA 99 compliant
anti-static material
• Zipper front
• 25 per case*