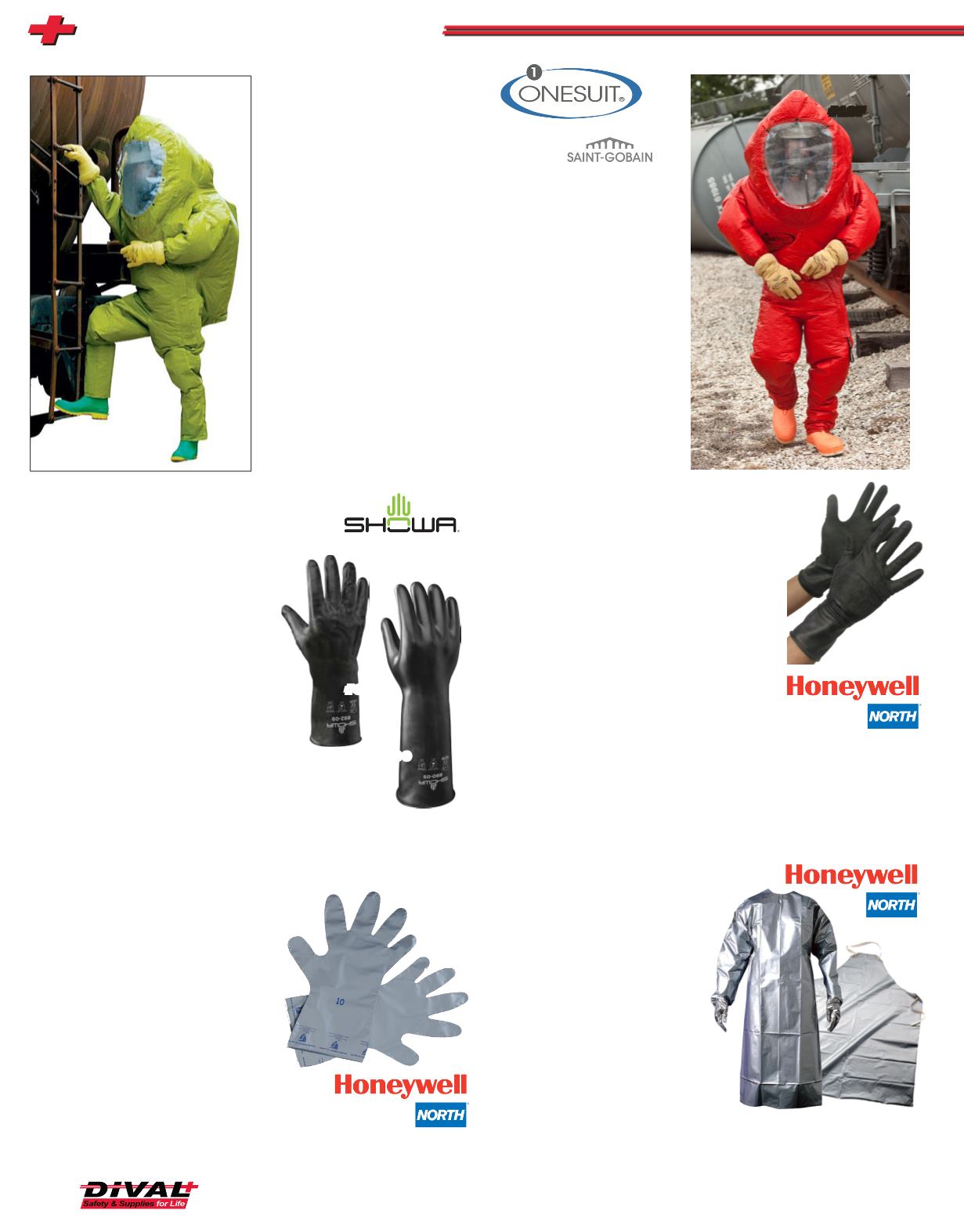 Extreme Protective PPE
YOUR DEPENDABLE SUPPLIER
of Safety Products and Much, Much More!
18
Silver Shield® Chemical
Resistant Gloves
• Silver Shield® is resistant to over
280 different chemicals including
alcohols, aliphatics, aromatice,
chlorines, ketones and esters
• Economical, most commonly used
as a liner glove for added protection
• Gloves are ambidextrous
• Sizes 6(XS) - 8(M) are
14.5" long, size 9(L)
is 16" long
• 2.7 mil. thick
$5.25
/PR
$44.50
/PR
SHOWA® Viton® Chemical
Resistant Gloves
• Made of Fluoroelastomer rubber,
a synthetic rubber which provides
the highest permeation
• Provides superior resistance
to highly corrosive acids
• Excellent for handling aliphatic
and aromatic hydrocarbons
• Resistant to high molecular aromatic
hydrocarbons such as Benzene,
Toluene, Xylene and Polychlorinated
Biphenyls (PCBs) of any protective
material used to make gloves
• Viton® provides the ultimate
combination of protection and dexterity
• Fully coated, unlined
• Smooth, standard finish
• Rolled cuff
$78.00
/PR
North Butyl™ Unsupported
Chemical Resistant Gloves
• Highest permeation resistance to gas and
water vapor for greater worker protection
especially when handling toxic substances
• Flexible and sensitive,
even at lower temperatures
• Curved finger and hand design provides
a better fit for greater worker comfort
• Rough "Grip-Saf" finish is
great for wet applications
• Rolled bead cuff
$27.75
/PR
Silver Shield®
Apron & Coat
• Five layer PE and
EVOH construction
• Provides excellent chemical
resistance to over 280 different
chemicals including alcohols,
aliphatics, aromatice, chlorines,
ketones and esters
• Provides high performance
protection in the most
demanding applications
• Thin and lightweight, excellent
for use under garments
$15.00
/EA
$15.50
/EA
Item #B161R(size#)
Size SM (7) - 2XL (11), 11" Length
Item #B174R(size#)
Size SM (8) - XL (11), 14" Length
Item #892(size)
SM - 2XL
Item #890(size)
LG (9) - 2XL (11)
Item #SSCA(size)
Coat (Sizes LG-XL)
Item #SS35
Apron
Item #SS104(size)
XS - 2XL
$169.00
/PR
ONESuit® Level A
HAZMAT Suits
ONESuit® is engineered to
meet the protection and comfort needs
of those working in the most dangerous
environments. Lightweight design combines
superior protection and maximum user comfort. ONESuit® is
reusable and decontaminable with a 15-year minimum shelf
life. Features a secondary visor, internal belting system, knee
reinforcements and integral booties. No overcover. Includes
ONEGlove® HAZMAT gloves which provide the highest
available combination of physical and chemical protection.
ONESuit® Gard (#1SA) provides maximum protection
against chemical and biological agents. Certified to NFPA
1991 standard with Liquefied Gas protection.
ONESuit® Flash (#1SF) was the first single-skin suit
certified to protect against chemical flash fires and
provides maximum protection against chemical and
biological agents. Certified to NFPA 1991 with Flash Fire
and Liquefied Gas protection.
Item #1SA(size)
Gard SM-XL
Item #1SF(size)
Flash SM-XL
Available at additional cost 2XL, 3XL
#1SF
#1SA
#892
#890
$2785.70
/EA
$1962.70
/EA
• #892 - 12" long & 12 mil
• #890 - 14" long & 28 mil
• Black
• One pair per pack
• 10 pair per pack
• 5 packs per case